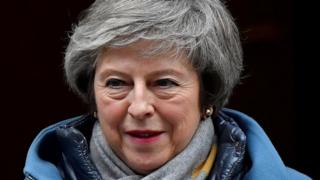 The government is considering giving extra protections to workers and the environment in order to win support for its Brexit withdrawal agreement.
The proposals have been put forward by Labour Leave supporter John Mann.
Business Secretary Greg Clark said the amendment showed "Parliament coming together" behind the PM's deal.
Labour leader Jeremy Corbyn said he would not support the amendment, saying it does not guarantee the protections his party want.
But a number of Labour MPs in Leave-supporting constituencies back the amendment, which Mr Mann said would open up the opportunity for other improvements to the prime minister's deal.
A spokesman for the prime minister said it was something they would "consider very seriously", adding that the government had "a long standing commitment to strong labour protections".
But Commons Speaker John Bercow warned on Thursday that no amendments had yet been selected and he would decide on the last day of the Brexit debate – Tuesday – which ones will be put to a vote.
Meanwhile Conservative MP George Freeman has told MPs he will now vote for the deal, having previously said he could not support it. He said it "wasn't perfect" and he hoped there would be more concessions.
But he added: "I will, with a heavy heart on Tuesday, vote for this deal because we are now in the dying stages and no-deal is unconscionable. But I beg colleagues to ask their front benches to work together across the house in pursuit of something we can all be proud of."
Prime Minister Theresa May met some of the Labour MPs as she continued efforts to garner support for the vote on her Brexit deal, which is due to take place next Tuesday.
Prominent Brexiteer and Tory backbencher Jacob Rees-Mogg said it was the "right approach" for the government to seek support in this way, but he would still be voting against Mrs May's "deeply unsatisfactory" deal.
'Labour's red lines'
Labour MP Mr Mann told BBC News his amendment was not about supporting Mrs May, but about establishing Labour's own "red lines in terms of people's lives".
"We do not want to see a Brexit where we become some kind of Singapore economy; where it is a race to the bottom, where we try to undercut everyone else and where workers lose out," he said. "What we want is to compete by being the best in the world."
The backbencher said the amendment would make it more likely for him to back the deal, but admitted it didn't mean other Labour MPs would be "rushing" to do the same, when the vote takes place on Tuesday.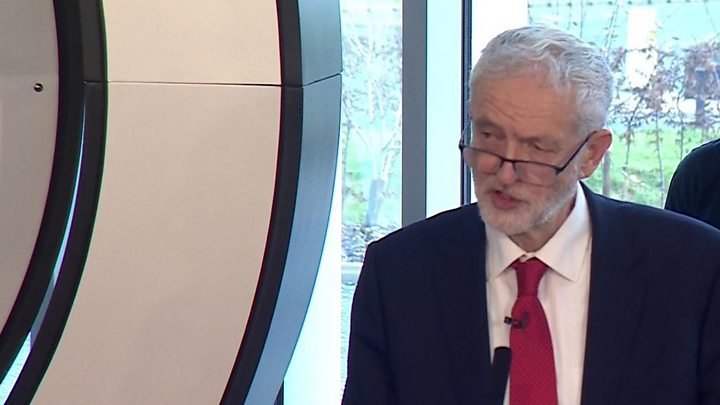 Cabinet minister Greg Clark told BBC Radio 4's Today programme establishing "what Parliament wants and what Parliament supports can be useful", and he hoped MPs could come together.
But Labour Leader Jeremy Corbyn said his party did not "accept or endorse" what was on offer in the proposed amendment.
He said it has already been "quite clearly and emphatically rejected" by leading trade unions, including the GMB's Tim Roache, who called it "a cynical attempt to use workers' rights as a bargaining chip for self-preservation".
The unions had said the proposals wouldn't "guarantee the protections that we are seeking and indeed a Labour government", added Mr Corbyn, and there would be "enhanced workers rights" under a Labour government.
Greener UK – a group of 14 environmental organisations working on Brexit, including the RSPB and the Woodland Trust – said the aim of the amendment was "commendable", but it was not enough "to prevent a weakening of environmental protections or standards".
Analysis
By BBC political correspondent Iain Watson
Labour MPs in Leave areas who would at least consider the prime minister's deal have previously expressed astonishment that she hadn't reached out to them.
No longer. A face-to-face meeting with the prime minister to explore what it would take to win their support is significant – and part of a wider Downing Street strategy to broaden much needed backing for her deal.
But the Labour leadership aren't impressed with commitments to workers' and environmental rights which they say wouldn't be legally enforceable – and unless the prime minister is willing to negotiate a customs union with the EU too they won't be coming on-side.
Labour activists are also keen to see the deal voted down to allow Jeremy Corbyn to argue for an election – and will keep the pressure on his MPs to do so.
Even if as many as 20 Labour MPs could be won over by No 10, this wouldn't be enough to neutralise the larger number of Conservative opponents of the deal. So moves to build cross party support are more likely to limit the scale of any defeat and not avert it.
The government has lost two Brexit votes in two days. The first defeat limits the government's financial powers in the event of a no-deal departure. The second forces the PM to announce new plans within three days if her deal fails in the Commons.
Mrs May, who is hosting Japanese Prime Minister Shinzo Abe for talks at Downing Street on Thursday, is also continuing efforts to win over sceptical Conservative MPs ahead of Tuesday's vote.
However, Arlene Foster, leader of Northern Ireland's DUP which has helped the government win votes since June 2017, has warned the PM her deal is "already dead".
In a sign that the party has not been swayed by the government's promise to give the Northern Ireland Assembly a veto over any new EU regulations introduced under the terms of the proposed backstop arrangement, she accused Mrs May of "wasting time".
Senior Conservatives have continued to express opposition to the withdrawal agreement and declaration on future relations, negotiated by Mrs May in November.
The Labour Party will oppose Mrs May's deal next week, and push for a vote of no confidence if it is rejected by MPs, as Mr Corbyn believes that a general election is the most democratic way of breaking the Brexit deadlock.
The DUP says it will support the government in any confidence vote if the Brexit deal is rejected, making a defeat less likely.